$title='company'; ?> include("../inc/leftnav.php"); ?> include("../inc/highlight.php"); ?> include("../inc/side_pic.php"); ?>

About Micro Forté Studios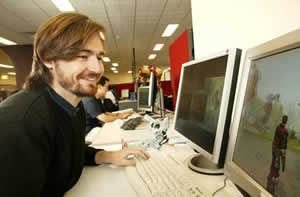 During our 23 years in the games industry we have been fortunate enough to work with some great talent, as well as work for some fantastic publishers including Electronic Arts, Interplay, THQ, Universal Interactive and Microsoft. We have also worked with some great smaller companies and enjoyed the closeness of relationship that develops. Our pride is in our ability to build a trusting relationship with our clients and deliver titles on time and to budget.
Based in Australia, with locations in Canberra and Sydney, Micro Forté Studios has grown from its roots in creating single and multiplayer player games across many different platforms, for many different publishers and is now focused on creating or co-creating products for virtual worlds and massively multi-player online games market. For the last nine years Micro Forté Studios has specialized in design, art and code to create online virtual world games. Building on our in-depth knowledge of having created the original BigWorld Technology, Micro Forté Studios develop MMO and persistent world games and innovative virtual world products for select clients. These days our primary goal is to provide world class content development services mainly for BigWorld customers who might lack some, or all, of the internal studio resources to deliver a virtual world or MMO product on time and to budget. Creating complex products is not an easy task, so let us help you in your quest of creating the next big industry hit.

Our Vision
We believe that the virtual world and massively-multiplayer online game space is at the beginning of a period of explosive growth. With the power of online communities and social interaction combining with innovative new game-play, we believe we are only just now touching the surface of what is possible.
Micro Forté Studios is perfectly positioned to deliver on the specific challenges faced by this exciting space. From the security of virtual goods transactions, to the requirements for fail-safe fault-tolerant and scalable servers, to the specific demands of the online content pipeline, Micro Forté Studios has the proven experience to turn a great online idea into reality. After all, our vision way back in 1999 was to develop massively multiplayer online technology for a future emerging market, which is now known as virtual worlds and MMO's. Our vision in developing the BigWorld Technology was proved to be correct and our timing perhaps a little early, but the experiences we have gained over the last nine years make Micro Forté Studios your ideal choice in the development of your virtual world or massively-multiplayer online game.
include("../inc/footer.php"); ?>